ISPE Solution
Via G. Galilei, 22 - 35030 Sarmeola di Rubano (Padova)

Europe

·

Italy
hallux valgus prevention, bunion treatment, healthcare sock, health-care sock, alluce valgo solution, sock for hallux valgus, sock for bunion prevention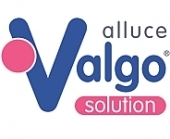 Alluce Valgo Solution®: a technologically innovative sock essential for anyone with bunion or has a tendency to developing it. The sock favours a better footwear wearability and an active care is obtained from the differing weaves of the fibres in its various bands, which move with the foot, massaging it and thereby favouring lymph drainage and firming the muscles. Alluce Valgo Solution® is an innovative idea by I.S.P.E. snc.
Details
Its concept is the result of years' experience in physiotherapeutic bandages: the sock for bunion prevention is a technologically innovative solution for hallux valgus and bunion deformity.
 
So this is the origin of the Alluce Valgo Solution® sock, studied and developed by technologically weaving and mixing Cotton-Lycra-Elastic Nylon yarns to respect the natural strength lines of the foot muscles and joints.
     
A wide big toe space offers its greater freedom of movement. The metatarsal joint is firmly bound, creating a comfortable cushion for the big toe joint, a common place for bursitis.
Alluce Valgo Solution® is a CE Medical Device under patent.
Alluce Valgo Solution® is a sock for every season, available in different models, sizes and colours.
Image Gallery
Features
Location: Europe, Italy
Attachments
Size: 240.97 KB Extension: application/pdf