Ceramiche Edelweiss
Via Rizzi, 24 - 36055 Nove (VI)

Europe

·

Italy
Artistic ceramics, design ceramics, artisan ceramics, ceramic art, handicraft ceramics production, handpainted ceramics, handmade ceramics, Italian ceramics, ceramic tableware, ceramic table accessories, decorative ceramics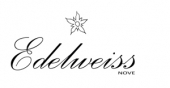 Ceramiche Edelweiss produces artisan and design artistic ceramics, creating unique products, made and hand-painted, capable of personalizing the most diverse environments and meeting all tastes, from the most traditional to the most modern.
Details
Ceramiche Edelweiss for over 45 years in the field of ceramic art has dealt with the production of handicraft ceramics creating modern objects that respect the traditions of the past with a touch of originality inspired by nature.
All products are completely handmade and handpainted and come from the desire to offer an high quality handicraft ceramics production, looking for refined and modern lines, to personalize all the different homes and to meet all the tastes, from traditional to modern.
Features
Location: Europe, Italy
Contact Ceramiche Edelweiss