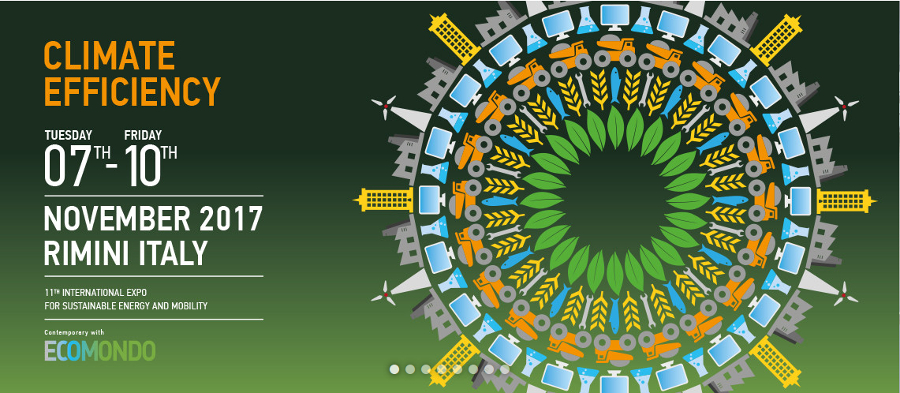 KEY ENERGY 2017
Mediterranean Exhibition for Green Technologies
RIMINI FIERA - Rimini - 07-10 November 2017

Merchandise Sectors:
Renewable Energy, Energy Efficiency, Urban Efficiency

Key Energy is the leading fair for renewable energies in the Mediterranean area. Focus on photovoltaic and storage, solutions for the energy efficiency in the industry and residential, solutions for sustainable intermodal and connected mobility.
Ecomondo and Key Energy offers today's biggest platform for the entire Mediterranean basin with 1200 exhibiting companies attracting over 100,000 visitors. Ecomondo has successfully anticipated business changes over time, from waste processing to dialoguing with industry on the development of an economic model based on green technologies. All sectors are efficiently represented, from waste to integrated water cycle, to air, bio-based industry and energy.

There will be the following themes:
Key Solar: the 2017 edition features a new exhibition area dedicated to the most innovative integrated solar technologies and to combination with storage systems, mains supply provided from storage and Demand Response and Virtual Power Plant (VPP).

Key Wind: The only reference wind power show in the Mediterranean basin, the Balkans and the Middle East. Key Wind, in partnership with ANEV, the Italian Wind Energy Association, collaborates to develop the sector in Italy, in terms of content, training, information and design.

Key Efficiency: An entire hall of technology, systems and solutions for a more intelligent use of energy resources in industry. Key Efficiency is the meeting point between technology producers, funding bodies and industry, where best practice among those who have chosen the path of efficiency can be tested.
Website: http://www.keyenergy.it/