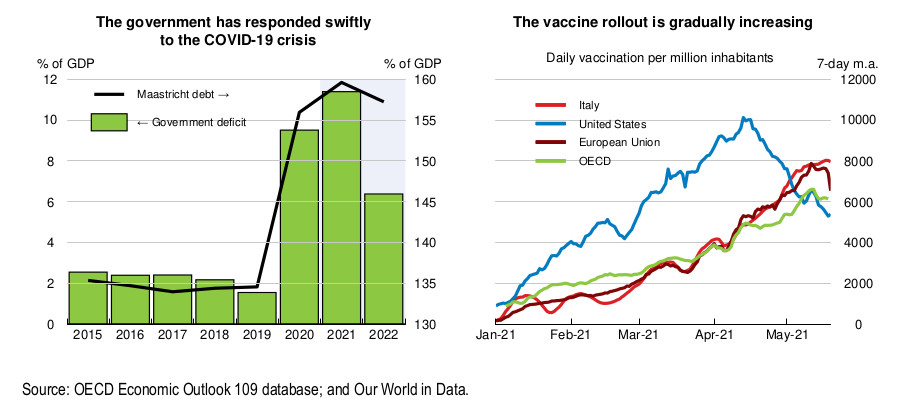 Italy Economic Forecast Summary (May 2021)
by OECD
Italy Economic Snapshot
Growth will rise to 4.5% in 2021 as the vaccine rollout accelerates, and remain strong at 4.4% in 2022.
Additional fiscal policy support will boost growth in the second half of 2021 and preserve productive capacity, but will also raise public debt levels.
Faster global growth will support the rebound in manufacturing, exports and investment, the latter also benefitting from higher public investment.
Consumption will recover as mobility restrictions are lifted and employment growth resumes.
High current levels of saving will come down gradually. New jobs, especially for the low-skilled, women and youth, return only in 2022.

The government's budget seeks to promote greener, digitised and more inclusive growth, using Next Generation EU funds together with generous incentives for hiring and investment. Growth-enhancing structural reforms are set to accompany these efforts.
Effective implementation of the national plan for recovery and resilience requires realising the announced ambition for a goal-oriented, digitised and agile public sector. Priorities are to implement public investment and civil justice reforms, reduce red tape and tax complexity, support competition, and increase the efficiency of training and job placement policies.


Strong manufacturing production contrasts with weak activity in contact-intensive services sectors

The contraction in activity in the first quarter of 2021 primarily reflected a slowdown in contact-intensive services sectors. Retail sales declined by 0.3% in the first quarter compared to the previous three months, whilst industrial production rose by 0.9%.
Growth in the manufacturing sector has been supported by export demand, primarily from European partner countries and for intermediate goods.
Business confidence in manufacturing and construction is now above 2019 levels. Confidence has also risen in business services, but by less, remaining below 2019 levels.
Tourism, which in 2019 accounted for 6.4% of GDP, continued to contract, in particular with regards to air flights and overnight stays. Household spending has been heavily influenced by confidence and activity restrictions. Household saving remain elevated, even though employment numbers have stabilised. Surveys suggest that as restrictions ease and employment recovers, saving rates will fall, but at a gradual pace, reflecting high uncertainty and the share of savings held by wealthier households.
Download the document in PDF: Italy Economic Forecast Summary (May 2021) - by OECD (331 KB - 4 Pages)