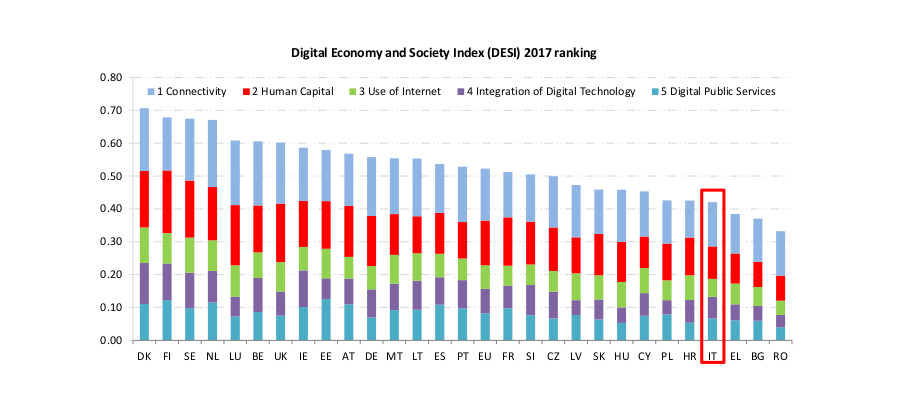 THE DIGITAL ECONOMY AND SOCIETY INDEX (DESI) - Analysis and data for Italy
2018 Annual Report
Focus: the most recent analysis and data for Italy
by EU

In 2017, all Member States improved in the DESI. Ireland and Spain progressed the most (close to 5 points as opposed to an EU average of 3.2). On the other hand, there was low increase in Denmark and Portugal (below 2 points).

How is the state of Italy?

Italy ranks 25 th in DESI 2017. The use of digital technologies by enterprises and the delivery of online public services is close to average. Compared to last year, Italy made progress on Connectivity, in particular through improvements in NGA access. However, its low performance in digital skills risks acting as a brake on the further development of its digital economy and society.

Download the document in PDF: Digital Economy and Society Index 2017 - Italy - by EU
Download the document in PDF: DESI Report 2018 - Telecoms chapter - Italy - by EU
Download the document in PDF: Europe's Digital Progress Report (EDPR) 2017 - Country Profile Italy - by EU